James Maloney, Esq.
Nunchaku: Illegal in California and New York.
Has the law gone too far?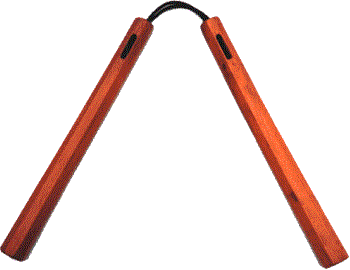 Although most of the U.S. states that regulate possession of nunchaku make no attempt to ban the simple possession of the instrument in the privacy of one's home for peaceful martial-arts practice, the laws of California and New York both make such possession a crime carrying up to one year's imprisonment for anyone convicted. And while martial artists until recently may have taken comfort in the likelihood that such prosecutions for in-home possession were virtually unheard of, recent trends in both states indicate that complacency about keeping connected sticks in one's house would be quite unwise.
In 2004 in California, police legally entered the San Jose residence of Harold Vaughn, a long-time martial artist and the past director of the U.S. National Karate Association's Virginia office. Upon noticing a pair of nunchaku hanging on display on the wall along with Vaughn's martial arts certificates, the police asked him if he had any others. He did, and Vaughn was charged with multiple counts of violation of California Penal Code § 12020, a misdemeanor, for his possession of the nunchaku in his home. There was no allegation that he had used them, or threatened to use them, to harm anyone, but, unfortunately, under the statute, no such allegation would be needed for a conviction. On July 19, 2004, Vaughn, threatened with prosecution for multiple misdemeanor counts with consecutive sentencing that would lead to several years of incarceration if he were convicted, pled "no contest" to a single misdemeanor count. A few years earlier he had moved from Virginia to California to study law, and had just completed his law degree.
In New York, another phenomenon is unfolding. Attorney General Eliot Spitzer, famous for taking on corporate corruption (most recently the insurance industry), has, over the last few years, brought civil lawsuits against out-of-state martial arts equipment suppliers (Family Defense Products of Ocala, Florida, and Bud-K Worldwide, Inc., of Moultrie, Georgia), which had supplied nunchaku to New York residents by mail order and Internet sales. Under the threat of huge liability, the companies agreed (in 2000 and 2002, respectively) to provide Spitzer with a list of New York customers who had purchased "illegal" weapons from the companies and to deliver written notice to their New York customers advising them to surrender their "illegal" weapons to law enforcement agencies. A pdf copy of the form that Bud-K Worldwide, Inc. was required to send its customers may be viewed by clicking here.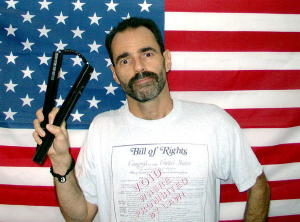 New York has also recently prosecuted at least one person for simple in-home possession of nunchaku, a matter about which I can speak firsthand (since I was actually prosecuted). Although there was no allegation that I had used, or intended to use, the pair of nunchaku that police found under my couch to harm anyone, a misdemeanor charge was lodged against me in August 2000, and remained pending until 2003, when the prosecutors agreed to dismiss it upon my pleading guilty to a violation (not a crime).
Being a lawyer myself, my next step was to challenge the statute banning possession of nunchaku in one's own home as unconstitutional, in a case (Maloney v. Spitzer) that is currently pending in federal court here on Long Island. Interestingly, one of the arguments that Mr. Spitzer's team is making in their defense (basically to avoid having the court decide the case) is that since Mr. Spitzer does not "enforce" the law, he is not the proper party to be sued. Arguably his civil lawsuits and the letters that he required to be sent to purchasers are a form of enforcement, and that question is now before the court. Although I had originally also named as a defendant the District Attorney who prosecuted me, the County attorneys early on pleaded with me to let him out to save the taxpayers some money, and so I did. (If the Attorney General now manages to circumvent the court's deciding the case on the basis of his "I'm-the-wrong-guy" argument, it will be classic manifestation of the adage: "No good deed goes unpunished.")
One noteworthy bit of history about the New York laws banning nunchaku (or "chuka sticks" as the statutes call them), which have been on the books since 1974, is that the State's own Division of Criminal Justice Services sent a memo to the Governor just 12 days before the bill was signed into law, pointing out that nunchaku have legitimate uses in karate and other martial-arts training, and opining that "in view of the current interest and participation in these activities by many members of the public, it appears unreasonable--and perhaps even unconstitutional--to prohibit those who have a legitimate reason for possessing chuka sticks from doing so." I found a copy of that memo in the course of my research and have made it part of the court file. A pdf copy may be may be viewed by clicking here.
The essence of my argument is that while the State may ban nunchaku possession in public places, it reaches too far when it attempts to make simple possession in one's own home a crime. My constitutional bases for attacking the statute are, of course, the Second Amendment, as well as a well-developed line of unenumerated-rights cases holding that persons have a right to privacy in their own homes. The case is now pending before District Judge Arthur D. Spatt, awaiting decision on my summary judgment motion. More details about the case, along with updates and many more documents (including all papers filed by both sides), may be found on the website that I have created for it. Go to the home page by clicking here.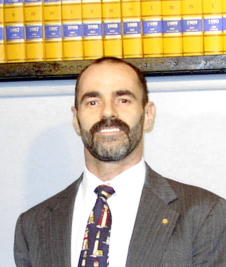 About the Author: Jim Maloney is a graduate of State University of New York Maritime College (B.S.), Fordham University School of Law (J.D.), and New York University School of Law (LL.M.), where he studied federalism and federal systems, including those of the United States and the European Union. Maloney has been employed as a merchant marine officer (1980-1987), as a paramedic at Saint Vincent's Hospital in Manhattan (1987-1995), and as a maritime attorney at Burlingham Underwood LLP (1995-1996) and Kirlin, Campbell & Keating (1996-1999), two historic New York City admiralty firms. He is now engaged in private solo practice. Maloney began his martial arts training during the mid-1970s at age 16, studying Uechi-Ryu karate, and over the years has also dabbled in Ving Tsun, boxing and aikido. He can neither confirm nor deny whether he currently trains with nunchaku at his home in Port Washington, New York.
This article is for educational and information purposes only. It is not legal advice on any particular case, and merely a general opinion of one California lawyer. You should not rely on it without consulting a competent attorney in your area about your specific case and facts. It is not intended to, and shall not, create an attorney-client relationship. So, be happy you got some free info and use your grey matter!
---
Need our expertise?
Ask a Lawyer - got a question? Post your case or legal issue for FREE and receive e-mail responses from lawyers.

Legal Articles - read articles written by attorneys about a variety of legal issues.

Business Issues - 15 things every business owner should think about.